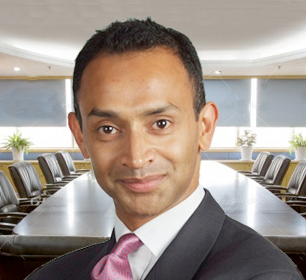 Manj is the husband of Alex Weerasekera (Alexandra Jones) and close-associate of someone recruited by Babu Shah when he was covertly recruiting in the offices of Enterprise Oil in the late 1990s.
Manj has been known by the aliases Mang, Mange and Manjula.
In 2000 Manj attended a Tony Robbin's event in Hawaii and made sure to evangelise how this event and it's fire-walking exercise, had transformed his life. Manj's professional life had been stagnant since leaving University.
Weerasekera's father spoke in 2001 how the family did not trust the NHS' mental-health services, of how they medicalise all mental-health ailments and how the family would shun any assistance from the NHS in this regard.
Weerasekera reflected in 2016 on this time, when he was made redundant from his role as a "well-paid corporate executive" that led him to seek answers from reincarnated Jesuses, Gurus and Seminars leading him to viewing himself as a professional failure:

In 2002 Manj attended his first EDUCO Cult indoctrination seminar having been persuaded by the shared-associate with Babu Shah who had been covertly recruiting at Enterprise Oil.
I attended the Educo seminar in September 2002 and found it to be an inspiring, life-changing event.

As a professional executive coach, I have found the information regarding the psychology of attention provided by Dr Tony Quinn to be the vital difference that makes the difference. It provides me with the highest platform there is to base my coaching and that in turn allows me to provide the highest quality of performance coaching possible.

Comment by Manj Weerasekera | November 26, 2008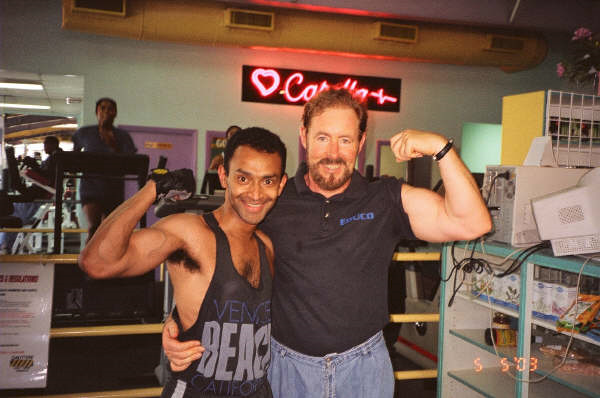 In 2006 Weerasekera, Alex Weerasekera (Alexandra Jones) and Maggie Lawrie were listed as Directors of Now Gyms Ltd. A company listed as being liquidated but now having a sole active-director Zana Morris.
In 2008 Weerasekera left this testimony on the Educo Success website where members of the EDUCO messianic Cult would leave testimonies for the purpose of recruiting others into the cult. His testimony sat alongside those of other members including Alex Weerasekera (Alexandra Jones), Mary Ann Malone, Ranjeev Sidhu, Babu Shah, Zana Morris, Jagir Singh (Jagir Shah) and Maggie Lawrie.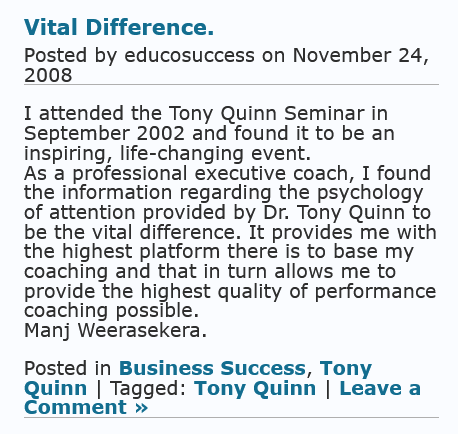 In 2010 it was revealed Manj (although he is named "Mange" on Dialogue Ireland) attended The Summit seminar at the cost of £55000, along with a shared associate recruited by Babu Shah and Shah himself. Attendees of The Summit Seminar were hand-picked by Quinn. This Summit Seminar was intended to change the world and introduced the meditation mantra "The Success System That Cannot Fail".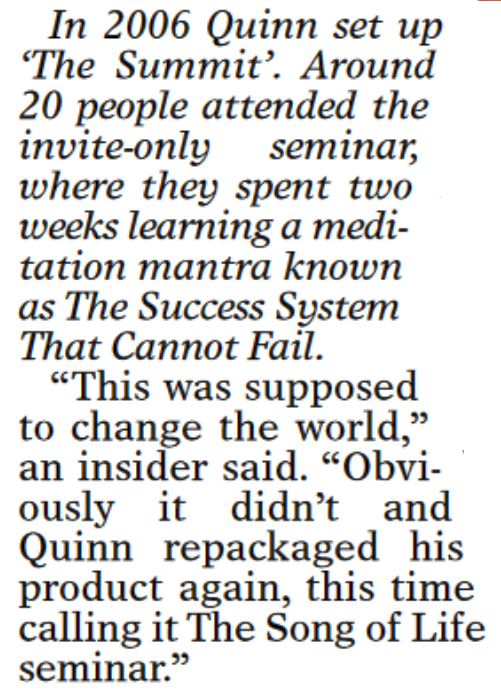 In 2009 an ex-member revealed what happens at the intimate cultic inner-circle meetings with the leader where it is revealed Quinn is the reincarnation of Jesus Christ, This description tallies with a condition many Cult leaders have known as Geschwind syndrome, and the "energy" is a form of Temporal Lobe Epilepsy seizure.
It was a strange meeting. When one of those present went on his knees asking Quinn to heal him, people started falling off their chairs, throwing themselves on the floor, some laughed hysterically, others cried. It was spontaneous and dramatic, an incredible reaction and that feeling of 'energy' was very strong.

One woman literally went flying across the floor and ended face down on the floor at his feet. Quinn told us that the world was destined to be saved by a group of people and that this responsibility rested on the shoulders of those present in the room. He was not happy about how things were progressing and told us that if we didn't come up to the mark then he would do it on his own. Some of the people in the room who were really upset by this. I left that room convinced that he was who we thought he was, Jesus Christ, and I felt that I had to try harder but it wasn't easy.
Manj was working for MLA International (Maggie Lawrie Associates) with Maggie Lawrie, and in 2011 he was no longer named on the MLA International website, having been replaced by fellow EducoGym proprietor Zana Morris..
In 2012 Manj and Alexandra opened a new EducoGym franchise in Barnes, south-west London. Maggie celebrated the opening of this new venture.

PR "firm" NBPR were on hand to capture the event: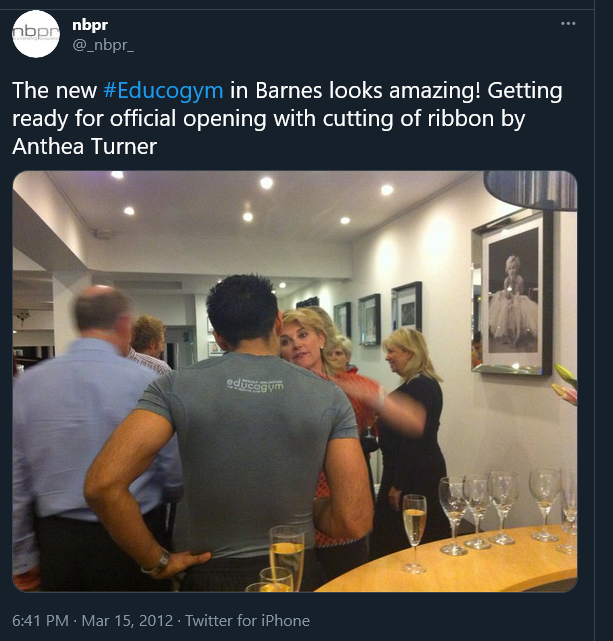 The photo appears to show Anthea Turner talking with Jagir Singh (Jagir Shah), another EducoGym proprietor.
Also of note the what can be described as the horrific hair monstrosity that is Messianic Destructive Cult Leader "Dr" Tony Quinn in the background.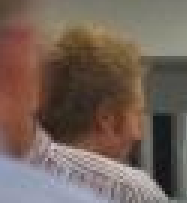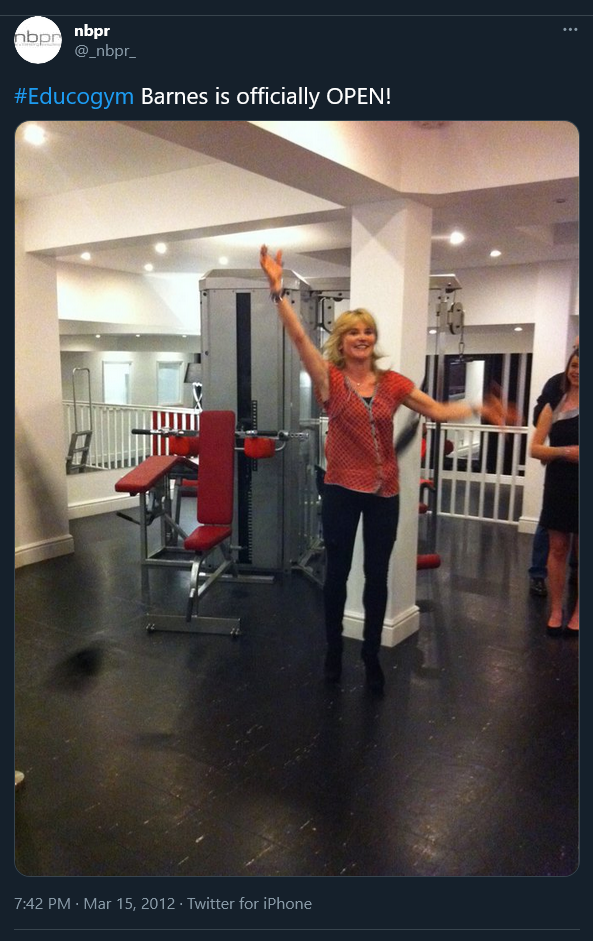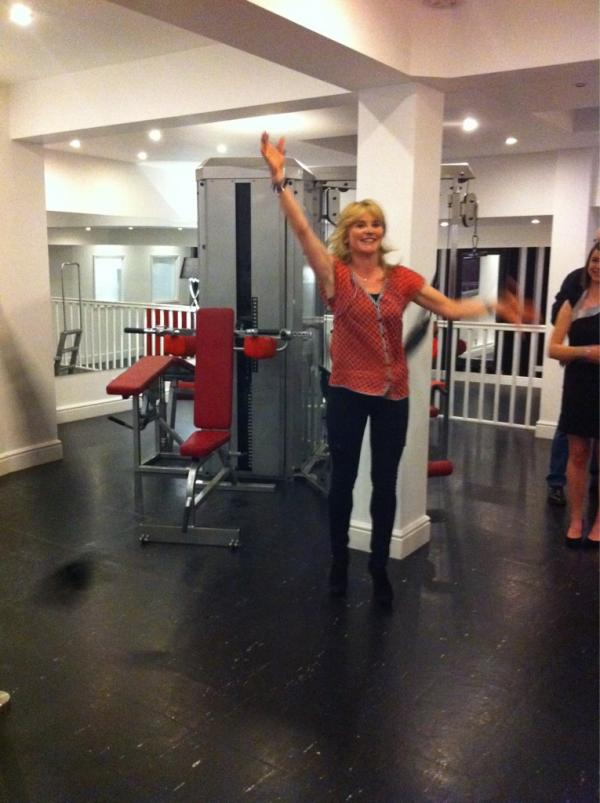 The Educogym in Barnes was not a success. Later in 2014 Quinn would be reported to have spoken about the failure of those who ran the Educogyms:
[Quinn] spoke of how he had no one he could trust to leave in charge in his [Educogyms]. He had no one of quality he could rely on. This point was returned to frequently so that it seemed to be a challenge to the individual members of the audience to step up and be the type of person he wanted.
In 2014 Weerasekera was recruiting for the EDUCO Cult with Linda Keen: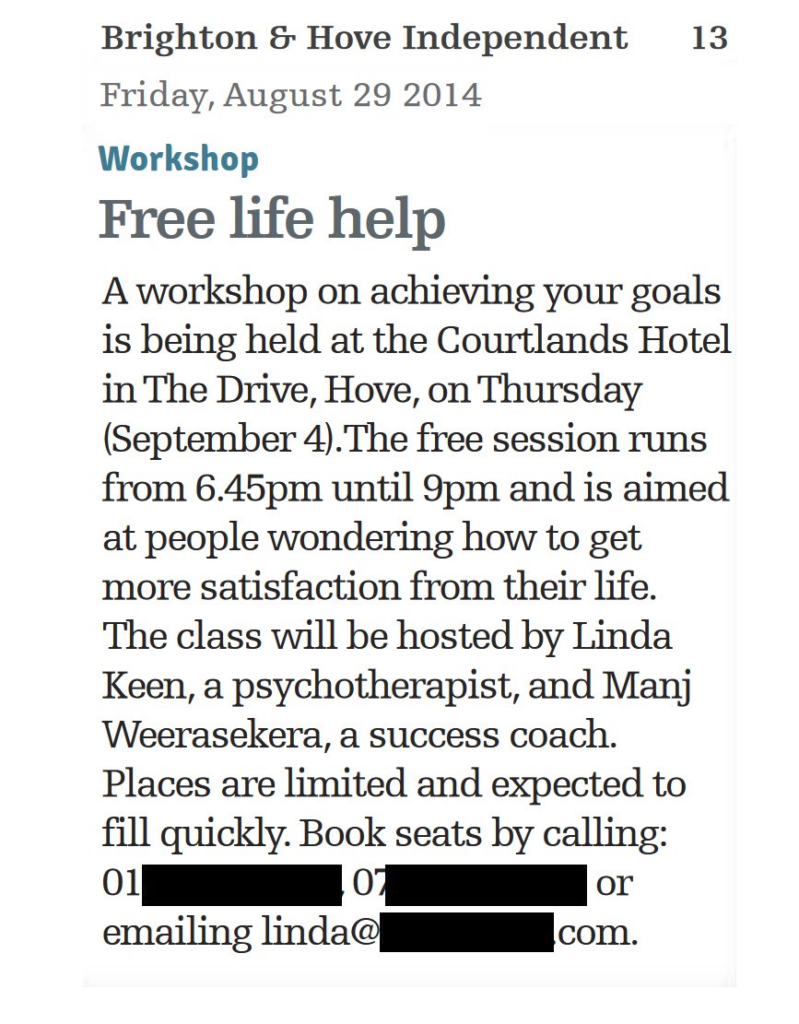 In 2016 Weerasekera wrote how he narrowly avoided bankruptcy and offered free seminars that would offer an insight to his "phenomenal success" on his Business Alchemy website.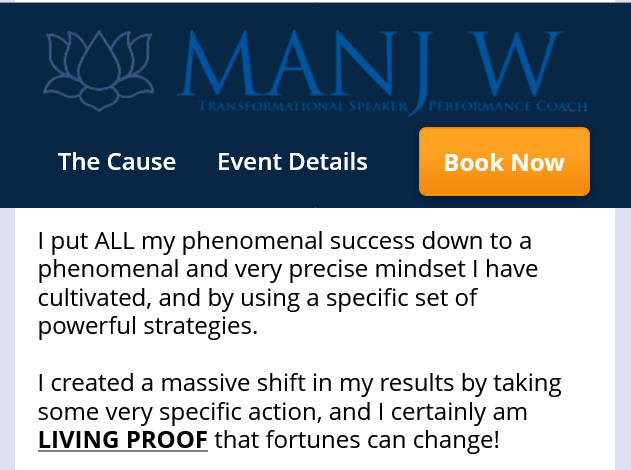 .The seminars were free for attendees but Weeraskera requested a donation to Macmillan Cancer Support.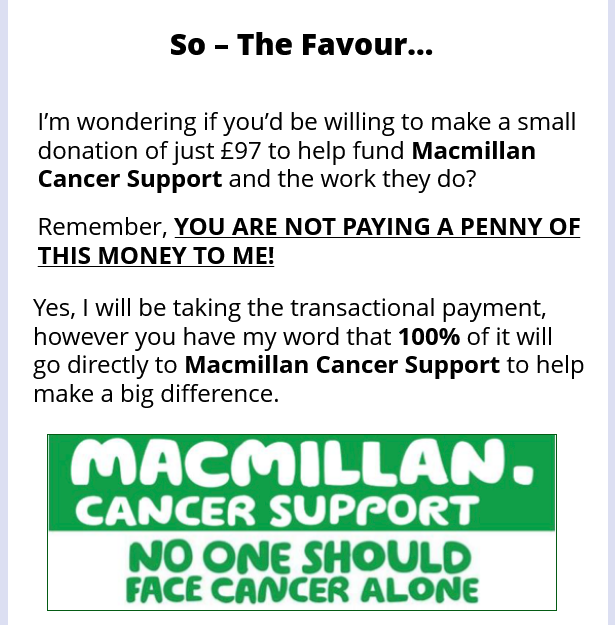 Weerasekera requested the donations were given to him and he gave his word he would not pocket the money. He would take the donation over the phone, presumably taking card-payments.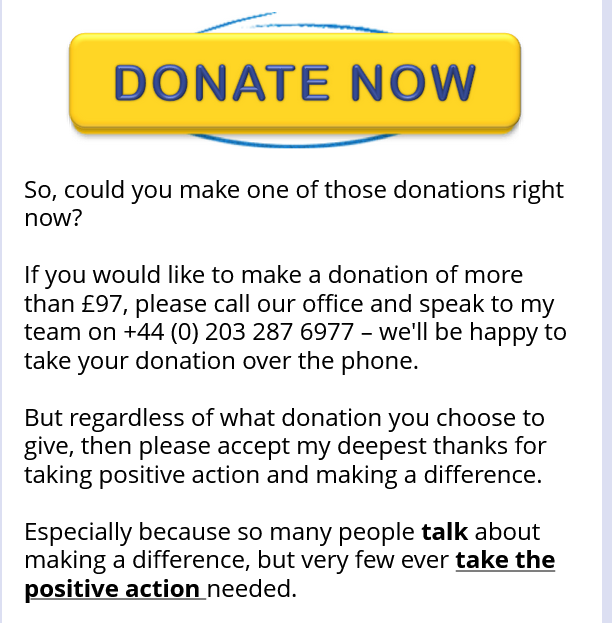 Weerasekera showed himself pictured with Lord Stone of Blackheath who was treasurer of the "All-Party Parliamentary Group on Mindfulness" in 2018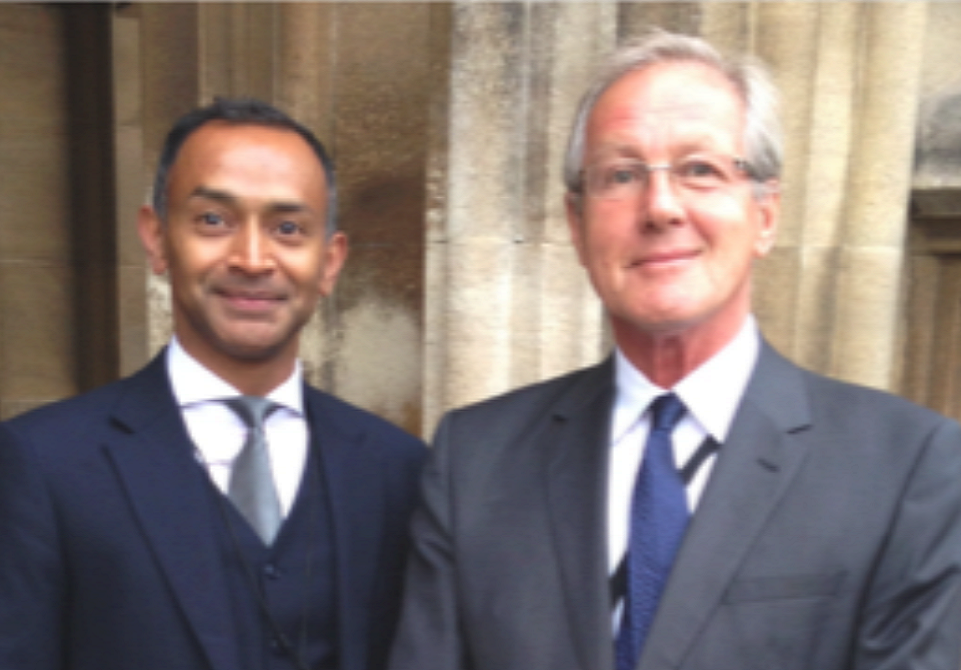 Lord Stone mentioned Weerasekera in the House of Lords in July 2013 describing him as a "brilliant business coach".
Lord Stone has had an "interesting" Parliamentary career. The Evening Standard reported in July 2020 "Lord Andrew Stone of Blackheath censured for SECOND time over alleged inappropriate behaviour towards women in Parliament". The House of Lords Conduct Committee published this report into his conduct in 2020.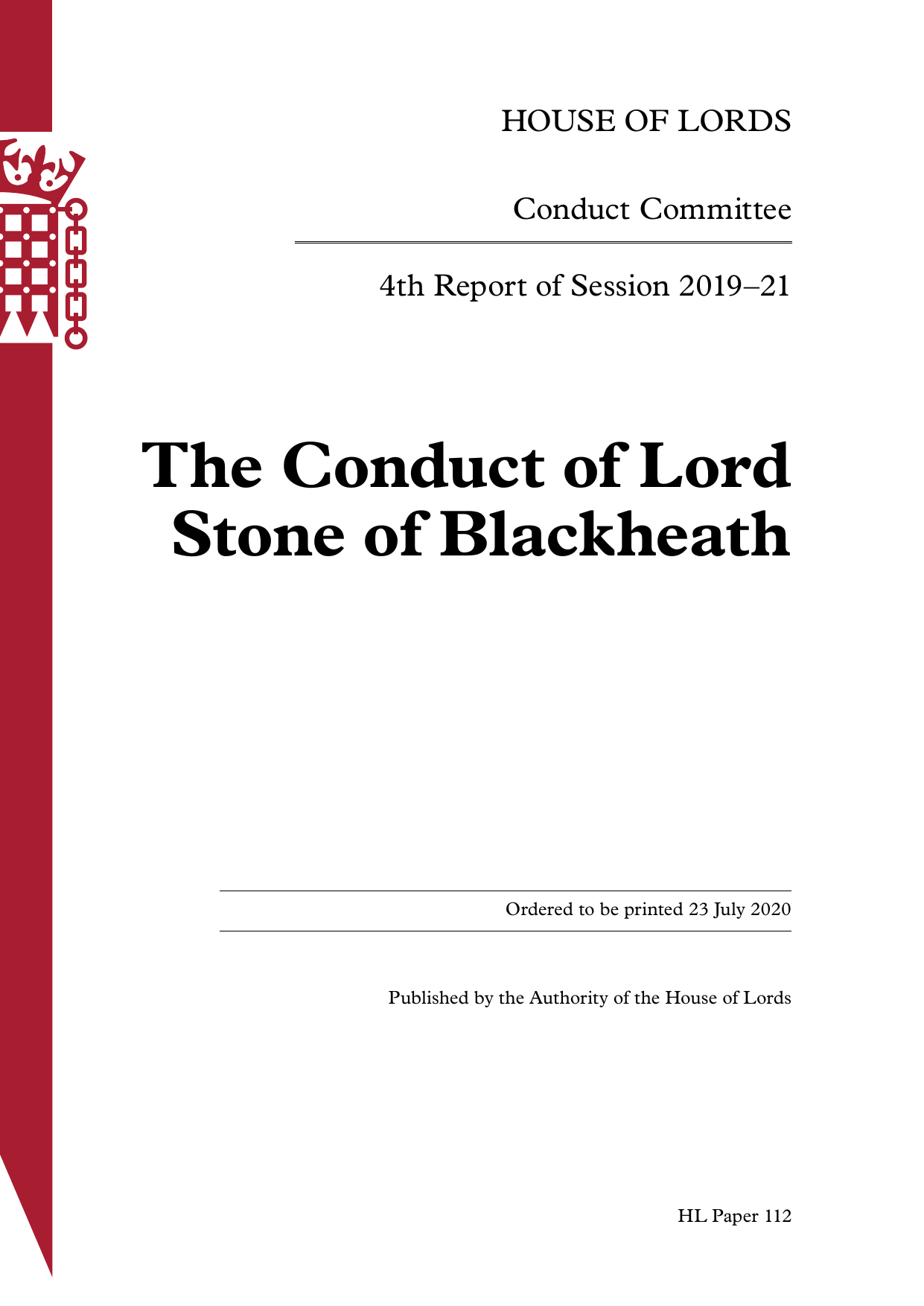 Weerasekera also published a photograph of him with Tom Singh OBE. Singh founded New Look in Taunton in 1969.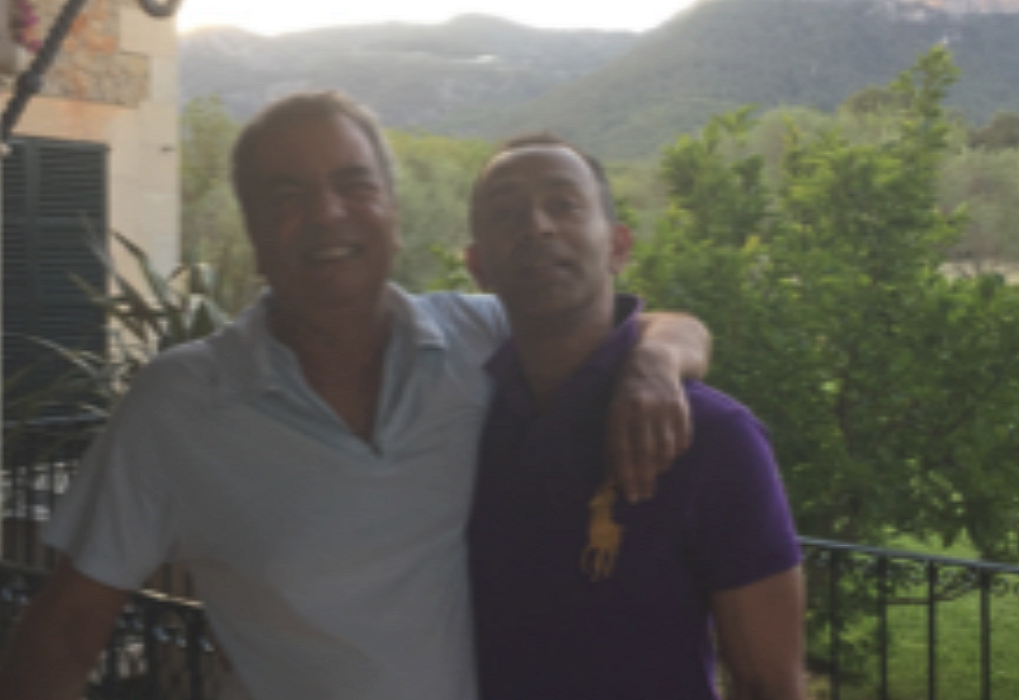 In 2016 a website appeared stating Weerasekera was recruiting for the EDUCO Cult within the offices of a company where he was employed as a "coach". The website describes how Weerasekera would target and groom chosen employees. His victims were not told he was recruiting for EDUCO.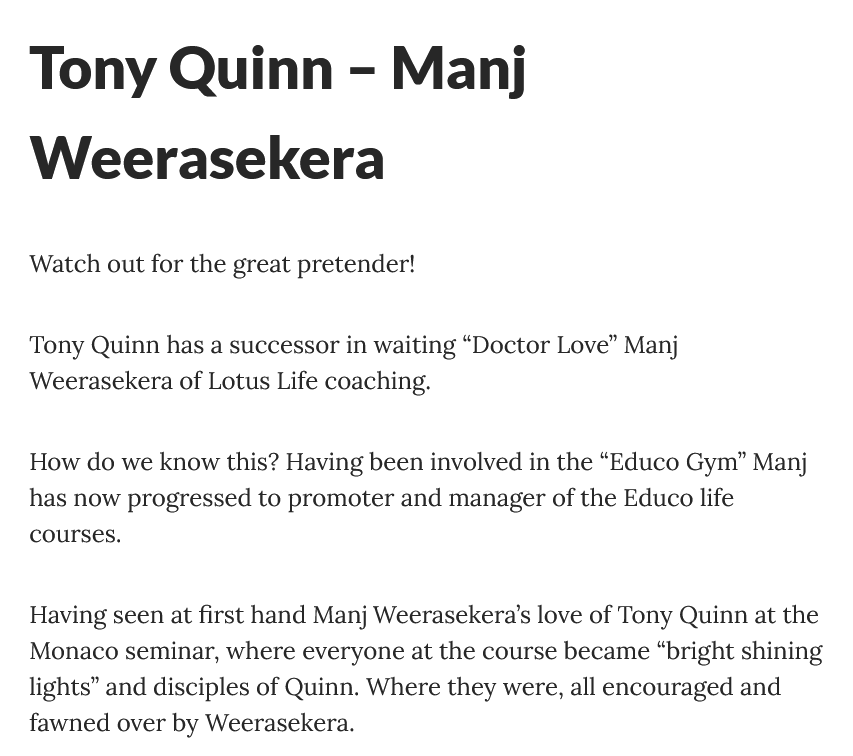 In May 2020 the EDUCO Cult's official website Educoworld stated Weerasekera and Alex Weerasekera (Alexandra Jones) were holding introductory recruitment events in London to lure victims to the remote EDUCO seminar hosted by Cult leader "Dr" Tony Quinn.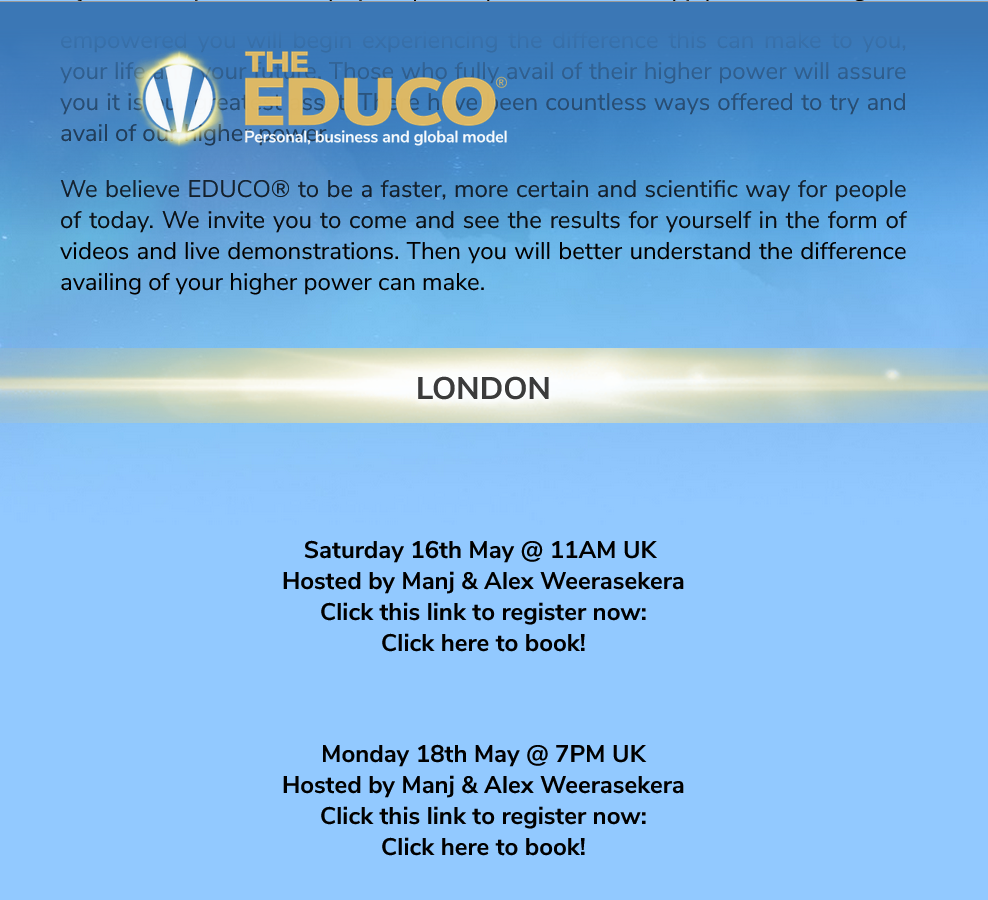 In 2006 The Sunday Times reported (No-paywall) on a similar event that an undercover Reporter "infiltrated". The Sunday Times reported the EDUCO messianic Cult were planning on expanding in the UK and to target children for it's form of hypnotherapy.

A photograph has surfaced taken since 2017 featuring Weerasekera alongside other members Richard Murfitt, Glen O'Callaghan, Claire Bulman, Tania Adams, "Dr" Tony Quinn, Patricia Fitzpatrick, Jane Abbott, Tanya Iskona and Sarah Gilhooly.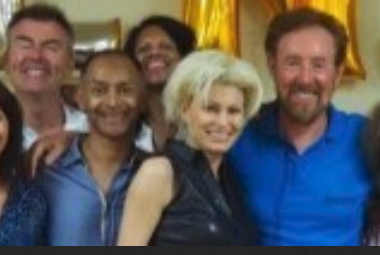 Behind Weerasekera in the above photo is Glen O'Callaghan, an associate of Jim Mansfield Jnr, who is in turn an associate of the Kinahan Cartel who were sanctioned by the U.S. government in April.
Here's O'Callaghan in an EDUCO promotional video:
Weerasekera was named as a Director of Black Stories Matter CIC, a community-interest company, along with Anjum Malik.