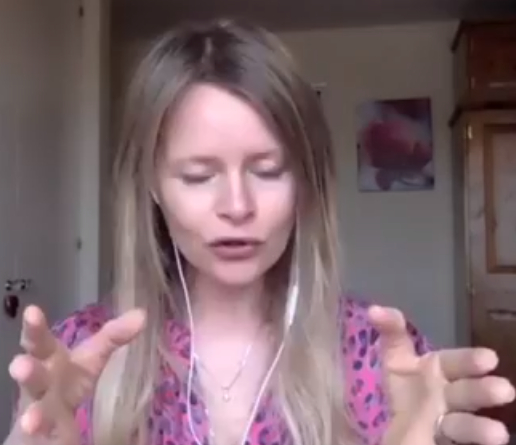 Alex is the wife of Manj Weerasekera.
Alex goes by the names Alexandra Jones and Alex Weerasekera. Alex states she attended her first EDUCO messianic Cult indoctrination Seminar in January 2004.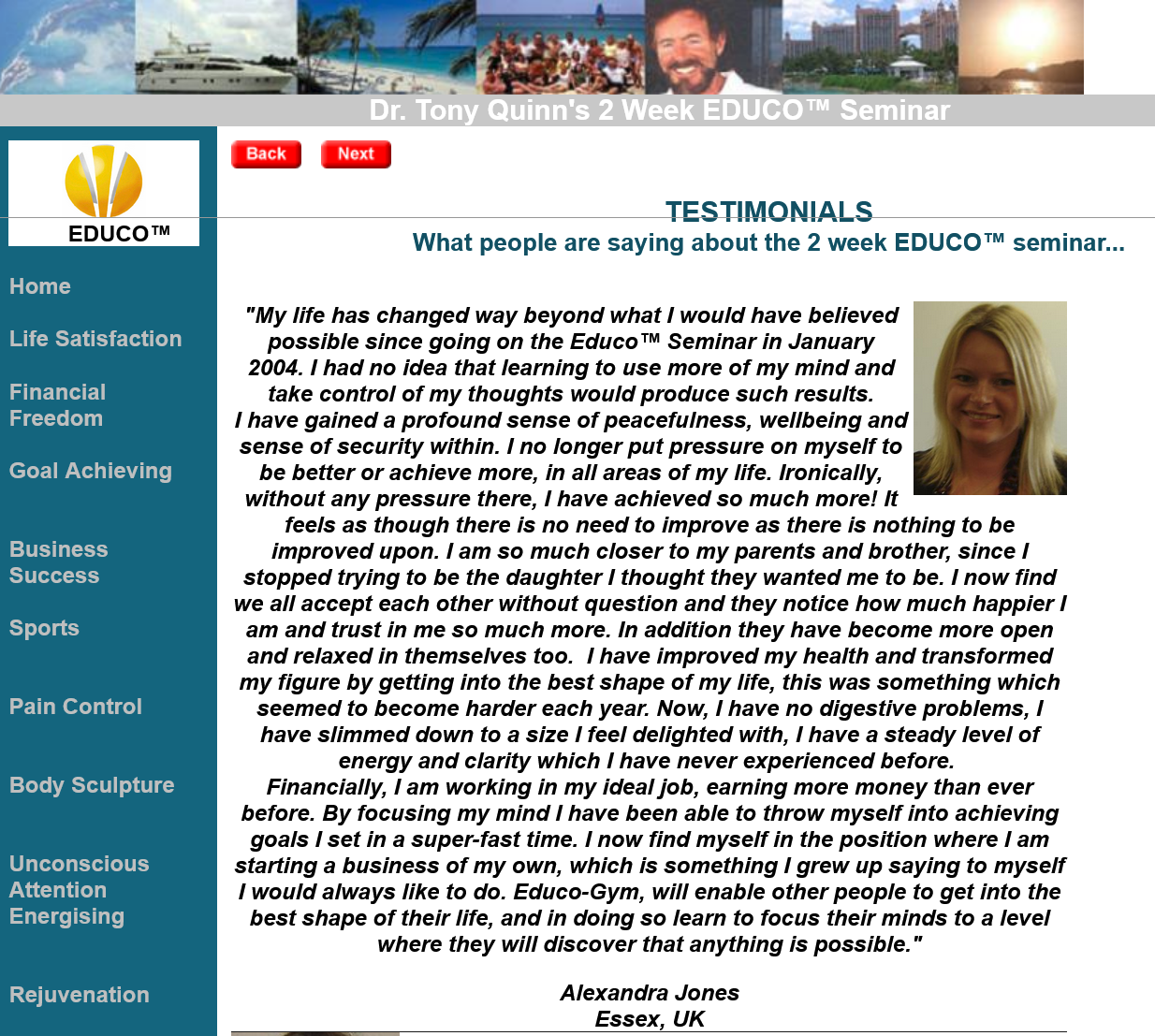 It has been said Alex met Manj Weerasekera at an EDUCO Seminar he attended with his then-wife. Comments on the Dialogue Ireland website suggest how they cemented their relationship.
Alex can be seen in this photograph from 2004 taken after the hypnotic 12-day Seminar held by Cult leader "Dr" Tony Quinn. Also featured in the photograph is Jim Fitzgerald and Margaret Forde (ex-wife of Martin Forde).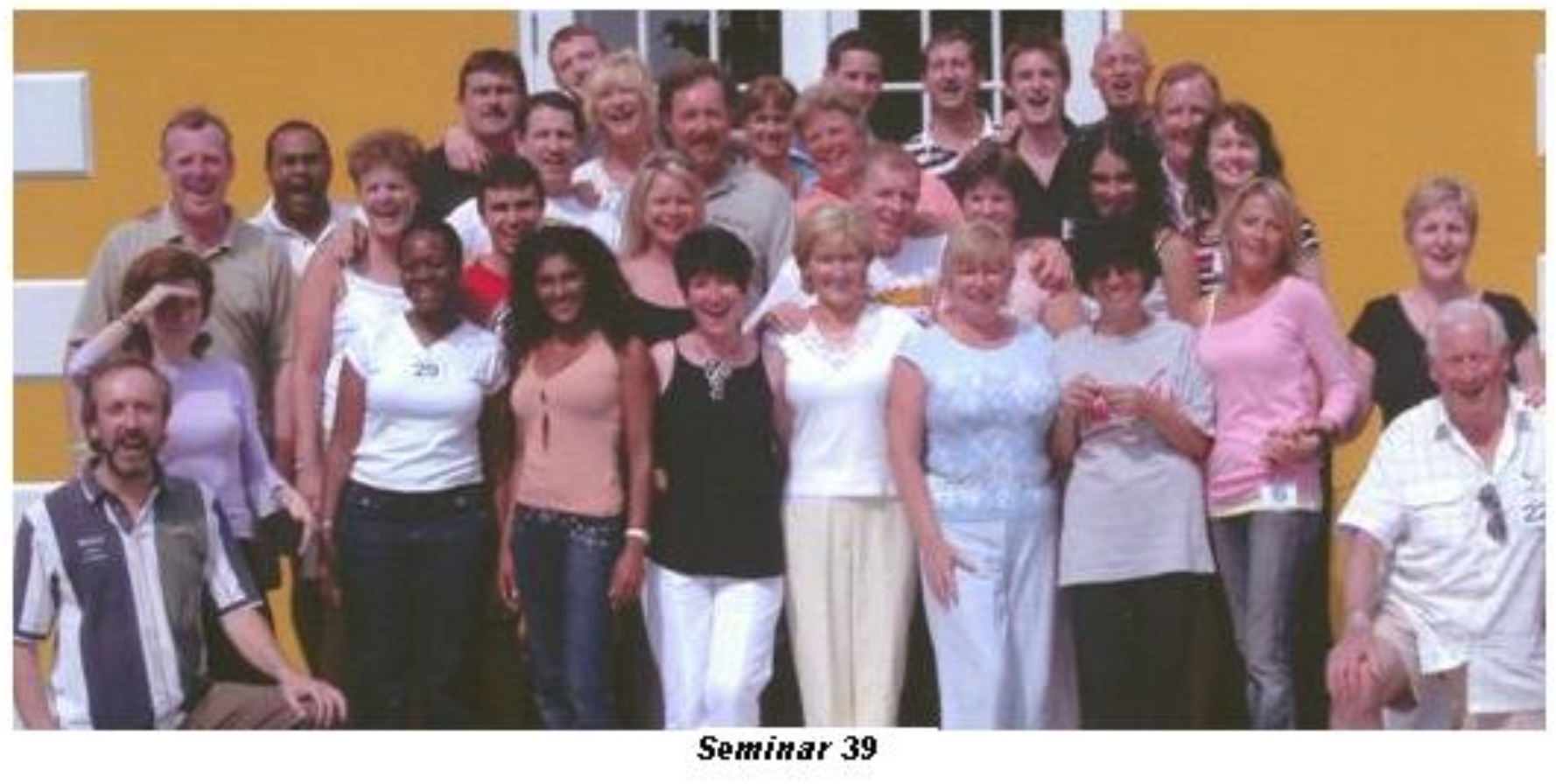 She is in-front of Quinn.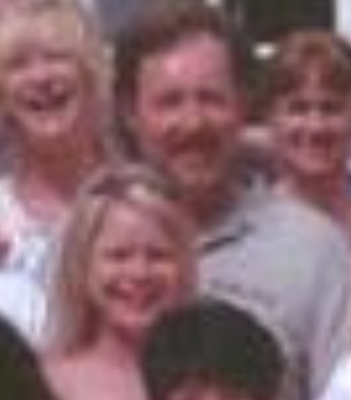 In 2008 Jones left this testimony on the Educo Success website where members of the EDUCO messianic Cult would leave testimonies for the purpose of recruiting others into the cult. Her testimony sat alongside those of other members including Manj Weerasekera, Mary Ann Malone, Ranjeev Sidhu, Babu Shah, Zana Morris, Jagir Singh/Shah and Maggie Lawrie.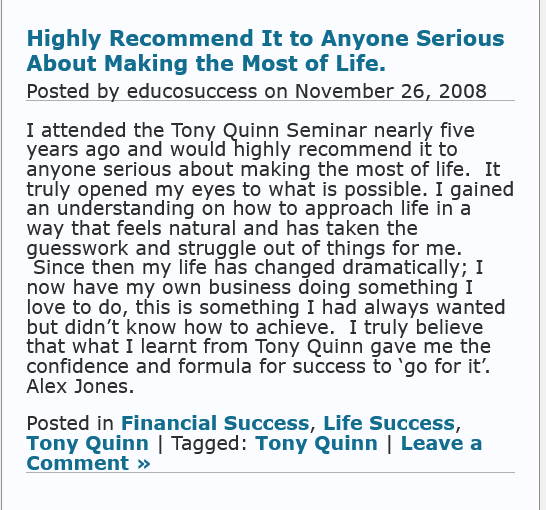 In 2016 a website appeared stating Alex was assisting Manj Weerasekera in the grooming of victims using covert-recruitment techniques.

In February 2018 Alex published to LinkedIn a near word-for-word reproduction of a post made by Richard Murfitt 11-days earlier.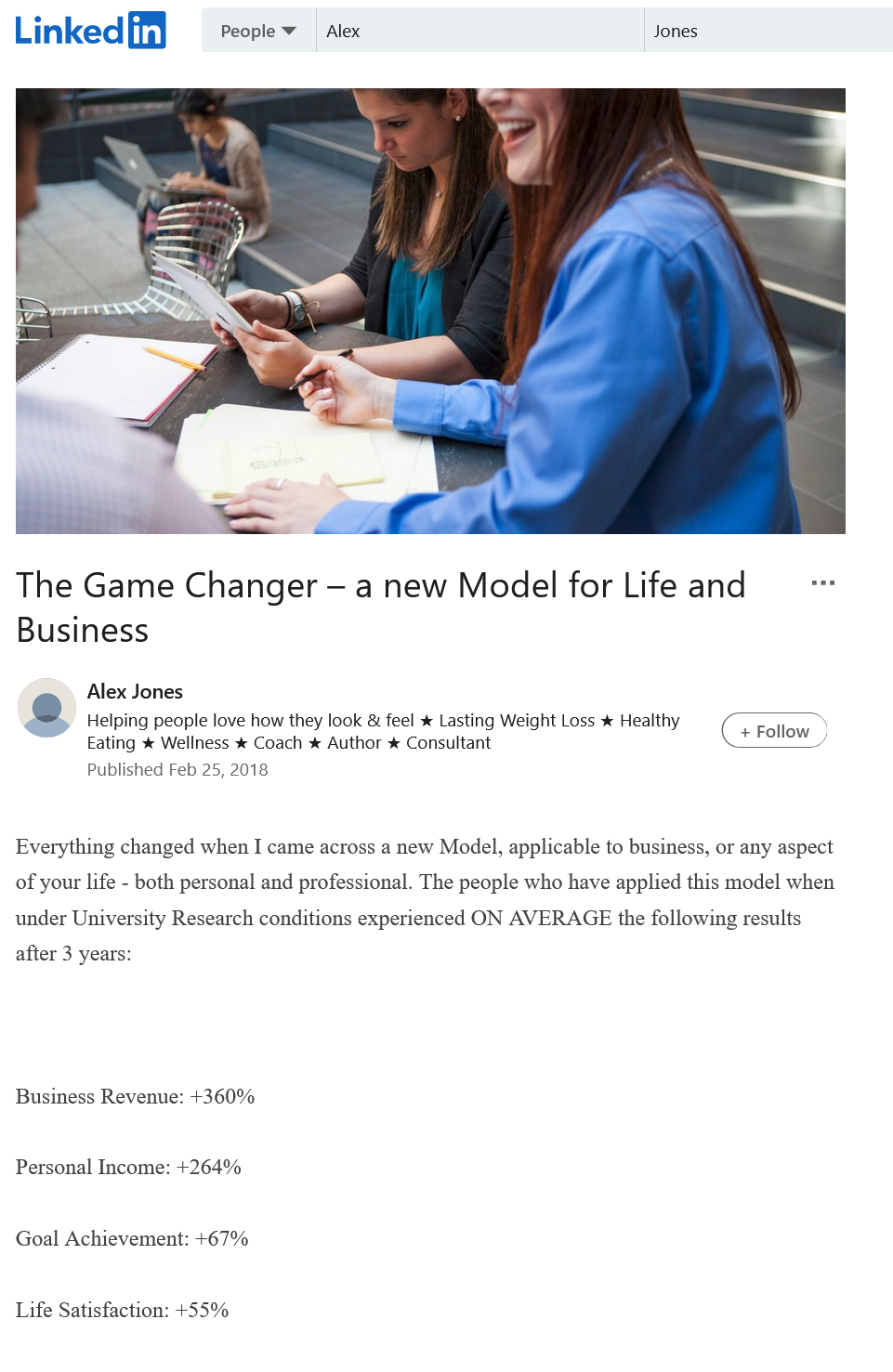 These are the same unsubstantiated claims made on the official EDUCO messianic Cult website:
Business success: On average they achieved 360% increase in turnover/ revenue in 3 years
Personal Finances: The average income increase was 88% each year, producing a total of 264% for 3 years.
Main goals in life: Over the 3-year period, their capacity for achieving goals increased by 67%, which was so remarkable that the results were off the graph normally used in such studies.
Satisfaction with life: A 3-year follow-up study showed their satisfaction with life had increased by 55%.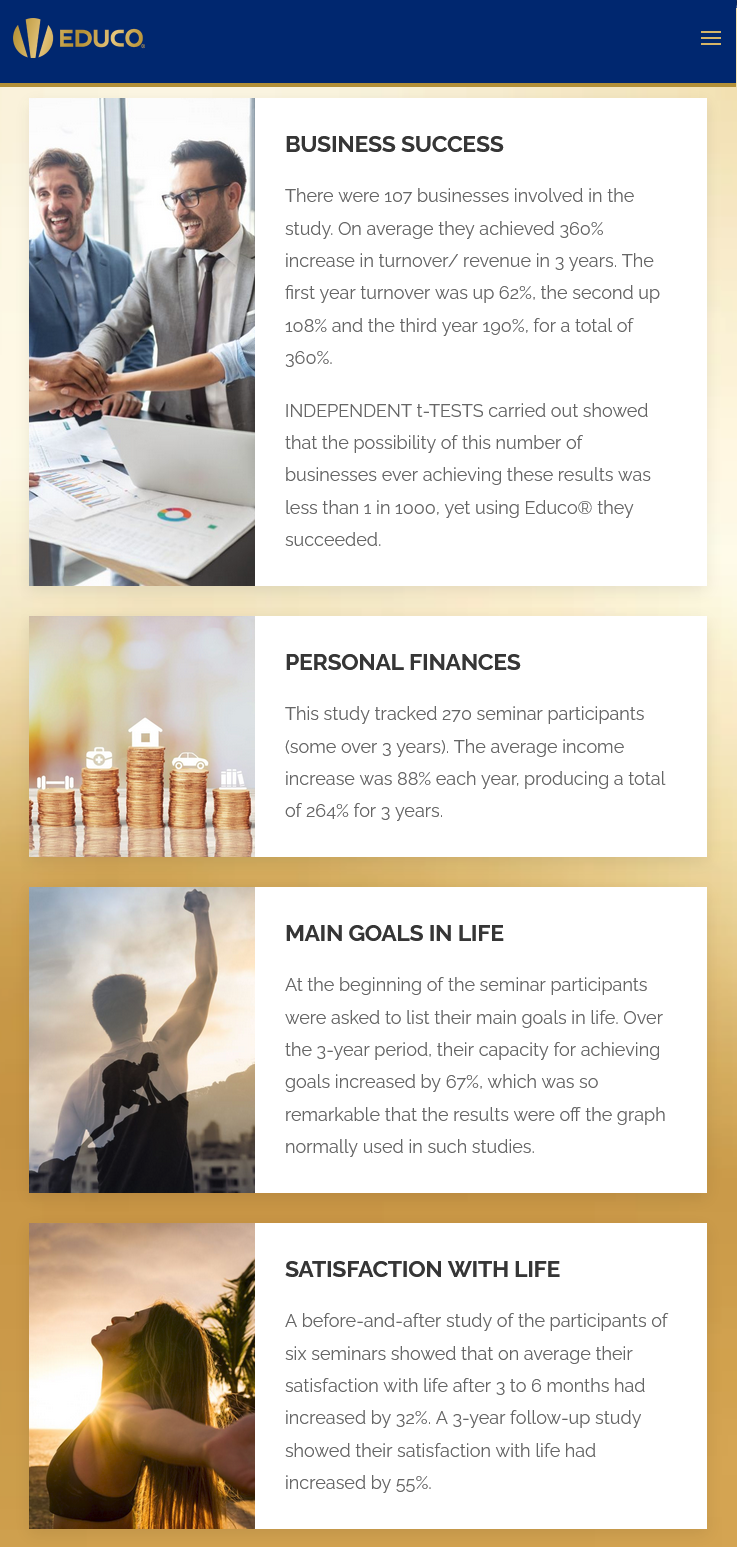 In May 2020 the official EDUCO Cult website stated "Manj & Alex Weerasekera" were holding introductory recruitment events in London.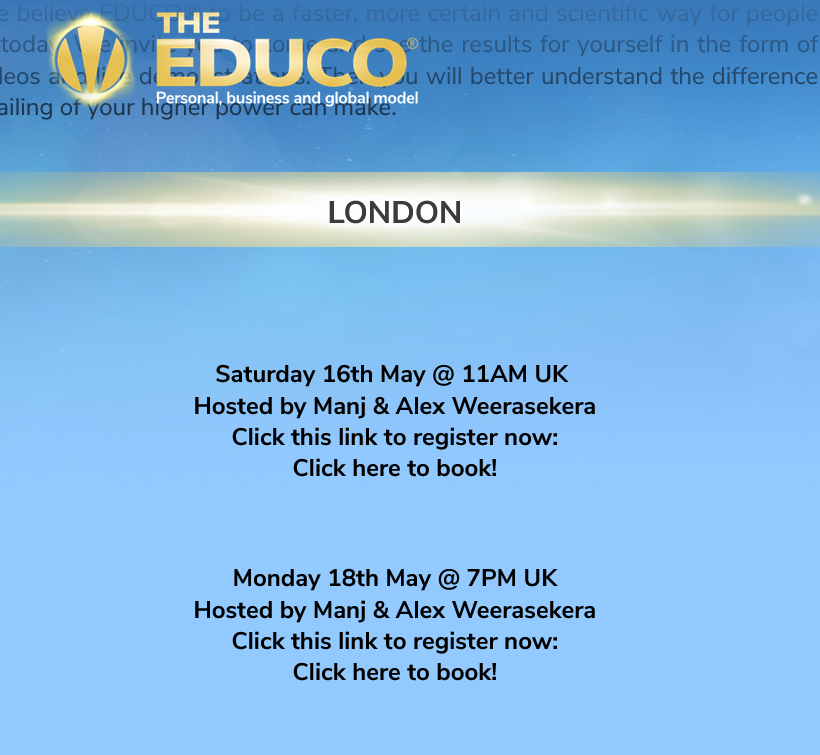 In 2005 The Sunday Times reported (No-paywall) on a similar event that an undercover Reporter "infiltrated". The Sunday Times reported the EDUCO messianic Cult were planning on expanding in the UK and to target children for it's form of hypnotherapy.

During Covid-lockdown Alex hosted a number of online-events including EDUCO Cult recruitment, "Beat Coronavirus" and "Young Living" Essential-oils promotions, including events where the ingesting of Young Living Essential Oils was recommended.

The EDUCO Cult recruitment event was also co-hosted with Manj Weerasekera

In the above promotional material for Alex Weersekera's EDUCO Cult recruitment event she repeats the claim that we use less than 5% of our mind.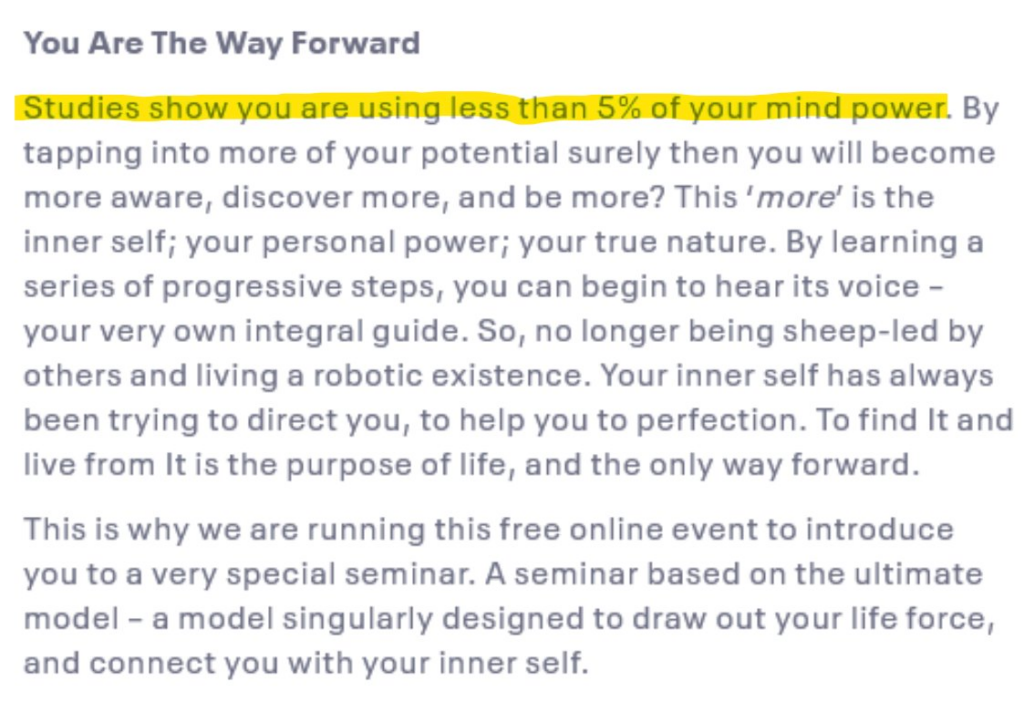 This might very well be true for Weerasekera. For the rest of us, these claims, central to the belief system of the EDUCO messianic cult, have been ridiculed multiple times by experts. Here is Martin Forde repeating these claims only for Professor Ian Robertson, Head of the Psychology Department of Trinity College Dublin to ridicule them,