Ranjeev Sidhu, or Ranjeev Singh, or Ranjeev Singh Sidhu is the husband of Pam Sidhu (Parminda Sidhu).
Sidhu claims to have become involved with the EDUCO messianic Cult in 2004. His LinkedIn profile states an ongoing "Education" from EDUCO from 2004
In 2005 The Sunday Times reported (No-paywall) that an undercover Reporter "infiltrated" an invitation-only recruitment meeting for the EDUCO messianic Cult.. The Sunday Times reported the EDUCO messianic Cult were planning on expanding in the UK and to target children for it's form of hypnotherapy and mind-coaching (or "mindfulness" training).
In 2009 Sidhu left this testimony on the EDUCO Success website. His testimony sat alongside those of other members for the purpose of recruiting others into the cult. Other members who posted their Testimonies on the website include Manj Weerasekera, Alex Weerasekera (Alexandra Jones), Mary Ann Malone, Babu Shah, Zana Morris, Jagir Singh/Shah and Maggie Lawrie. His testimony is on the subject of indoctrinating every child into the Totalist EDUCO messianic Cult to somehow give every child an edge(?).
On LinkedIn His "Courses" section also states EDUCO and NLP (Neuro Linguistic Programming) which is a debunked set of psychology techniques based on Erickson Hypnosis
Sidhu has been seen at a number of EDUCO meetings and is known to be a stalwart of the UK recruitment team.
In 2011 Sidhu was interviewed by Sonia Deol for BBC Food about his self-published book "Sai – A spiritual Experience"
Sidhu has a number of online websites and communities. He had a website enlightenment.life that can be directly linked back to the EDUCO Cult.
The website makes some bold claims:
The Enlightenment Project is a global initiative to promote the goal of Enlightenment. This Project wishes to encourage a person to uncover and live from their true nature. Success for us, in this project, would be to enable a person to reach the fullest potential of the human being.
Enlightenment Seminar

Education comes from the Latin 'to educe' meaning 'draw out from within'. The understanding has always been that everything a person needs is already inside. Health, wealth, happiness, joy, wisdom & enlightenment. We must look within ourselves and for circumstances in which to create change. We just need to learn how to draw these things out of ourselves. We have to learn to Educo.

There is no longer a need to read endless ancients scrolls or go into the mountains to search for the answers. It is all inside you now and if you are ready to learn how to find it, let us know, and we will arrange for you to be educated by the world's leading expert in this field during a 2 week seminar.

The people who have applied this model when under University Research conditions experienced an significant increase in the following areas results after 3 years.

Business revenue. +360%
Personal Income. +264%
Life Satisfaction: +67%
Goal Achievement: +55%

If you would like further information about any of these exquisite services feel free to get in touch and see if you like what you hear. Our ambition is to make sure that you do.
These claims are lifted directly from the official EDUCO Cult recruitment seminar website educoworld.com:
Business success: On average they achieved 360% increase in turnover/ revenue in 3 years
Personal Finances: The average income increase was 88% each year, producing a total of 264% for 3 years.
Main goals in life: Over the 3-year period, their capacity for achieving goals increased by 67%, which was so remarkable that the results were off the graph normally used in such studies.
Satisfaction with life: A 3-year follow-up study showed their satisfaction with life had increased by 55%.
Sidhu's website had a blog which included the following about an Irishman who speaks with god:
Now, imagine, the rishis, Socrates, Mahavira, Jesus, Lao Tzu, Guru Nanak, all having these experiences and then trying to pass it on based on the language, culture and science of the time. Now what if an Irish guy went up a mountain, became enlightened and had a conversation with God, how would he explain this experience? In what language and what metaphors would he use to try and get across the enormity of the event?
The Enlightenment.Life website had a link to an Instagram page enlightenment.life that contains some interesting imagery on the theme of identity and self:
The Enlightenment.Life website also linked to this Facebook community The Enlightenment Project:
That announcement post is liked by a community named "Enlightenment Life Coaching":
The profile image for the Enlightenment Life Coaching page is:
The Enlightenment Life Coaching page has shared posts from the following:
There is a company that until 28 Jun 2021 was named "The Enlightenment Project Ltd" that has a director named Ranjeev Singh Sidhu.
That was the same week Frank Parlato (who features in HBO's The Vow, and helped expose the NXIVM Cult in the New York Times in 2017) published an article comparing the EDUCO Cult with the notorious American NXIVM Cult
In 2019 an advert targetting students was placed on the University of Derby Student's Union website Phantom Media. With the help of the students this advert was removed on 13 October 2021:
Sidhu has been observed to post onto numerous spiritual facebook groups looking for victims: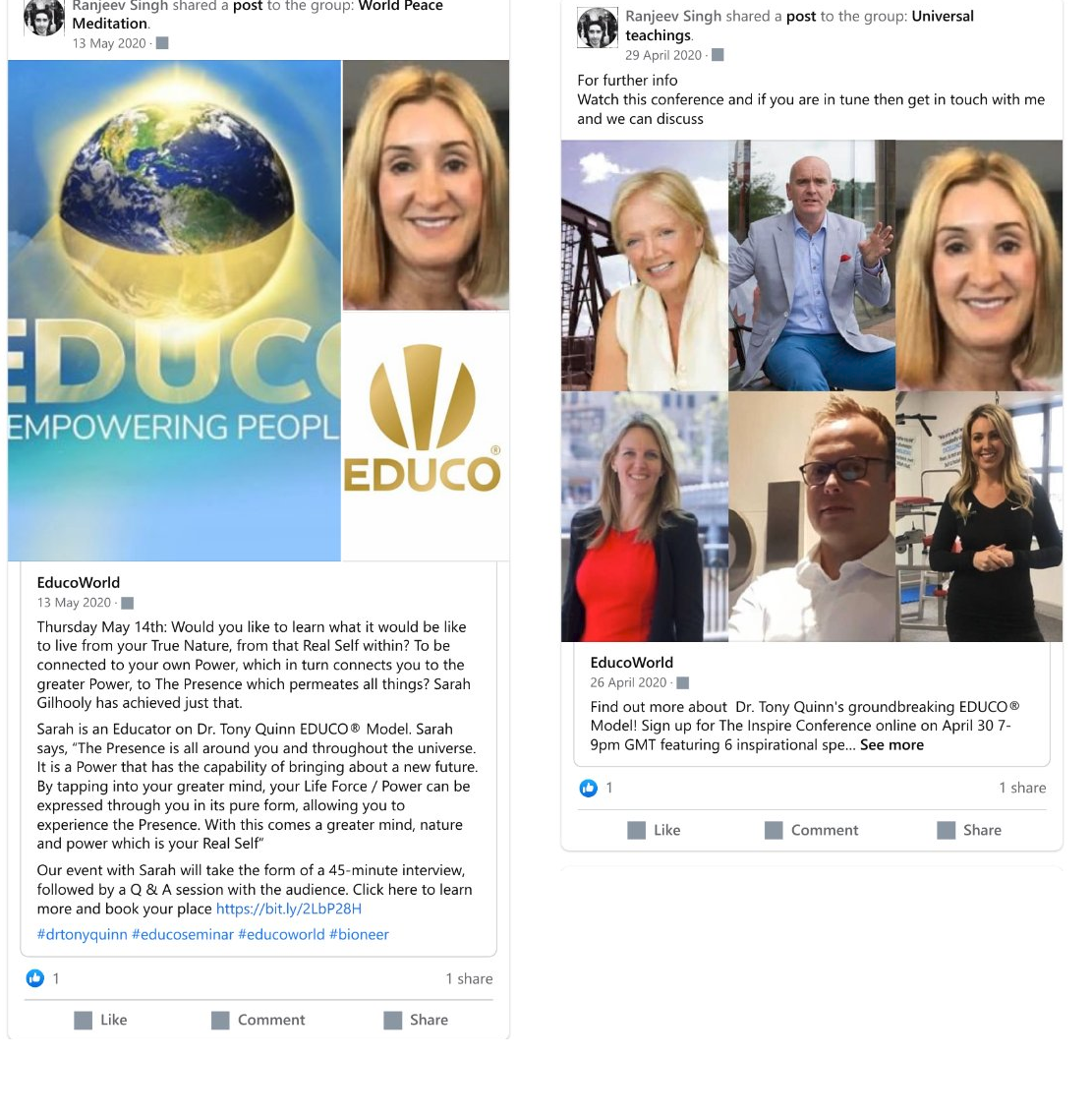 Sidhu has also interacted with Claire Bulman on Facebook. Here is a 2019 post that Bulman posted, likely breaking all code-of-ethics (if she were a member of a professional-body).
Sidhu has been seen to have interacted on posts on the Educo Facebook page, including this one, posted on May 4 2021.
Sidhu has hosted a number of "Motivational" speaker events including this one at Club Albion.
Sidhu appears in another photograph from that event with his Enlightenment.Life website logo behind him. The Enlightenment.Life website was a recruitment website for the EDUCO messianic cult that targetted students at the University of Derby.
Singh Sidhu appeared on Ian Skye's BBC Radio Derby show on 9th December 2022 introduced as an "Executive Coach":
Singh Sidhu appeared 2-days later on Satvinder Rana's BBC Radio Derby show:
On 8th January 2023 Singh Sidhu appeared on the Gagan Grewal show on BBC Radio WM:
The EDUCO Cult has been reported on numerous times as utilising Human Trafficking practices; these include
expensive-remote seminars with recorded group-counselling sessions where attendees have signed away the right of the host of the seminar to record everything before the attendee knew they would be coerced into revealing private and painful memories
promises of enlightenment and the dream job having shelled out for the grossly overpriced seminar with the content of a cheap self-help book
being isolated from loved-ones whilst in the company of coercive manipulate members who are looking to please their "guru", even introducing young women to him when his history of abuse has been withheld from those women
the promise of employment on completing the seminar that never materialises
targetting of young people at the beginning of their professional lives.
diet control
In 2012 it was reported how a young woman who had been recruited though the seminar-scheme had brought Pink Lady apples to Sidhu's guru and was introduced to Quinn: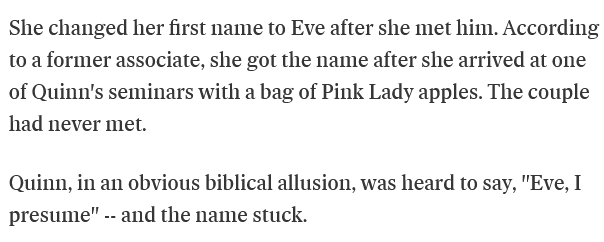 Here Pam Sidhu and McDonagh laugh about the importation of fruit by aeroplane: