Linda Keen is a BACP registered Psychotherapist, Counsellor, NLP Master & Life Coach.
This page is currently being compiled. Come back soon for more details of Linda Keen and her history in the Totalist EDUCO messianic Cult.
Keen has been a member of the EDUCO Cult since the 1990s. It's known that her guru "Dr" Tony Quinn dislikes her and does not like spending time with her, although she has remained loyal to her guru for decades.
Keen is listed on the 2005 Irish Health Culture Association website as a "member" alongside Caroline McDonagh.
The Irish Health Culture Association was operated by EDUCO Cult leader "Dr" Tony Quinn, Martin Forde and his ex-wife Margaret Forde (both who have been members since the 1970's communes).
Keen wrote in 2005:
Two years ago, I found myself drawn to take a Yoga teachers course in the Irish Health Culture Association in Dublin and qualified in 2003. I have been teaching yoga ever since to both adults and teenagers alike.
Keen wrote in 2008:
Not only did the Educo™ seminar change my direction in career and thus give me a real purpose in life, it also importantly enabled me to pass the philosophy on to my three children, two of whom are now grown up with children of their own. My eldest son, Tony, was so impressed with the change in his mother, he too attended an Educo™ seminar in May 2000 and every area of his life had also radically improved!
On one of Keen's websites she claims:
I am a registered member of the BACP and adhere to their ethical framework. I am also an accredited member of the IAHP Institutes for the Achievement of Human Potential.

Linda Keen works as a Counsellor and Psychotherapist in East Sussex. For many years she worked as a motorsport journalist and public relations consultant, while also bringing up a young family.

Linda's life journey took her to Ireland in 1993, where she lived for the next 17 years and while there, attended a two-week Human Potential Research seminar which catapulted her into a new life and a new way of living. She was fascinated to discover that not only could she control her mind, she was able to 'design' her life exactly as she wished it to be.
She also claims:
Using the Global award-winning Educo® model, Linda has been coaching sports men and women in the art of using more of their mind in competition for almost 20 years, and has a unique approach that makes all the difference to the people who work with her. She has a Bachelors of Science (Hons) psychotherapy degree which is a massive advantage in working with people to help eliminate negative thinking through Solution-Focused and Cognitive Behavioural Therapy (CBT) techniques, and one of the main topics in the seminar is teaching drivers to understand how the mind works and the significance of thought. In addition, she is a certified Neuro-Linguistic Programming practitioner and uses hypnosis and reprogramming of the unconscious mind for lasting results.
Another of her websites claims she runs "The #1 online parenting course"
Keen has roped in her clients to promote the EDUCO messianic Cult, a Cult with a 50-year history of Sexual and Financial abuse. Here Keith Donegan promotes EDUCO Cult leader, "Dr" Tony Quinn's, discredited "Unconscious Attention":
In 2001 Martin Forde described the EDUCO Cult's "Unconscious Attention" which was discredited by Professor Ian Robertson:
In 2019 Keen repeated the claims made by the EDUCO Cult and stated she does not plan for crisis when training young boxers:
Keen is known to use social-media platforms to recruit for the EDUCO messianic Cult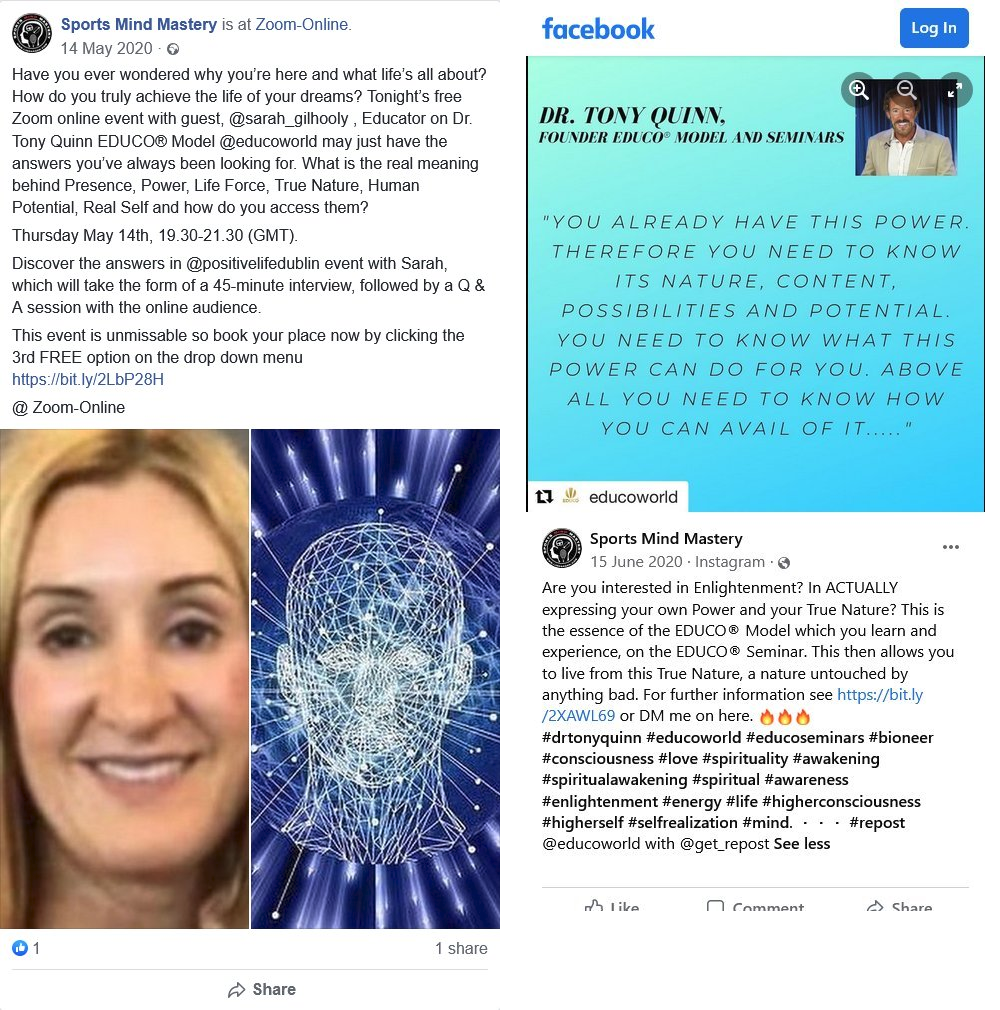 Keen has also been known to recruit for the EDUCO messianic Cult with Manj Weerasekera:
Linda is also a "Team Member" for the British Mindfulness Academy which has been known to recruit for the EDUCO Cult in the UK. Other members include EDUCO Cult members Carmel Farnan and Margaret Forde (ex-wife of Martin Forde). The "Academy" targets children: