Patricia Fitzpatrick has been a member of the EDUCO Cult since at least 1997, as she appeared in a "Blueprint for Successful Living" supplement that appeared in the 22 June 1997 Sunday Tribune: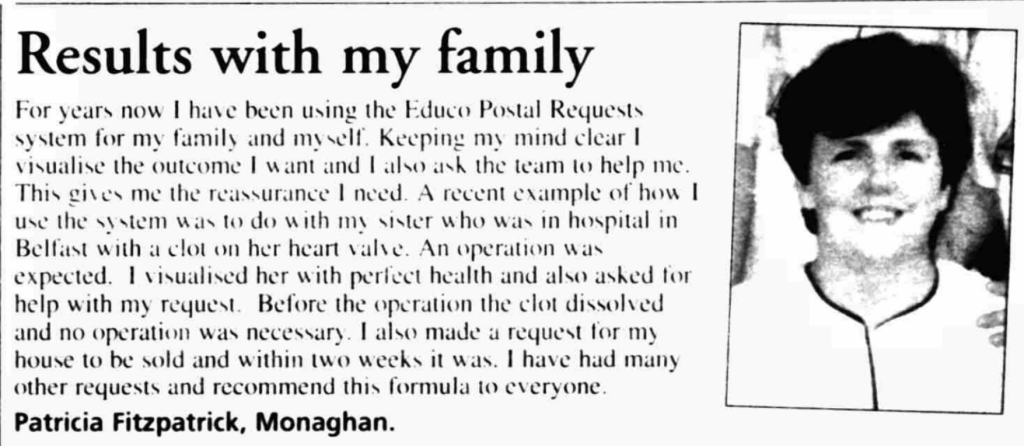 Patricia Fitzpatrick was named in the 2009 Sunday World article titled "Messiah's Army Of Apostles" which described her as:
In Monaghan, housewife Patricia Fitzpatrick brings hundreds of new devotees to sign up for courses and seminars. She attended at least eight seminars herself, including three costing €63,500 each.
In 2010 it was revealed Fitzpatrick attended The Summit seminar at the cost of £55000, along with Manj Weerasekera, an associate of his recruited by Babu Shah at Enterprise Oil, and Babu Shah Attendees of The Summit Seminar were hand-picked by Quinn. This Summit Seminar was intended to change the world and introduced the meditation mantra "The Success System That Cannot Fail".
In 2011 The Irish Times described Fitzpatrick as an "associate of [Tony] Quinn's" and reported she attempted to dissuade investors in International Natural Energy from attending an EGM to discuss the removal of "Dr" Tony Quinn from the board.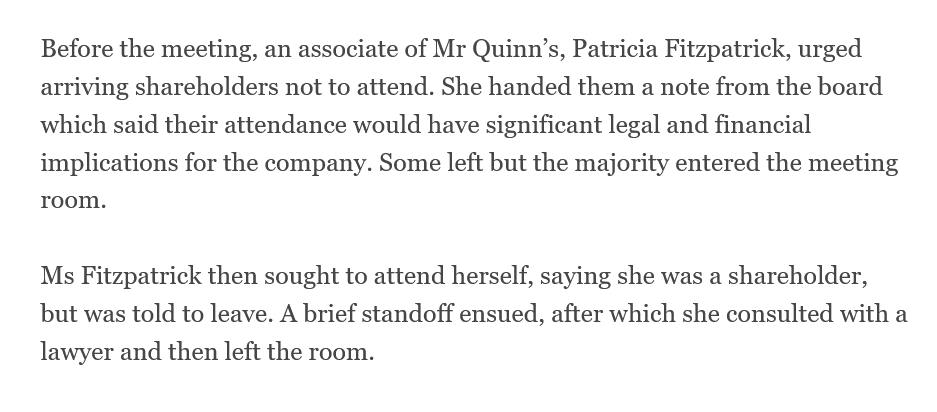 In 2012 the Eastern Caribbean Supreme Court (Commercial Division) ruled that Quinn's appointment to the board was invalid.

In 2012 Fitzpatrick revealed she had sent her children on the EDUCO Cult Indoctrination Seminar:
My children have gone on the Formative Learning seminar and, I say this in the best possible way, I would be free of them because I would absolutely know that they have their own minds, they know how to use them, they know the direction they want to go in life and I don't have to worry about them. They can actually go out there and achieve for themselves, and explore things and make things happen and just actually live their own lives.
A photograph has surfaced taken since 2017 featuring Fitzpatrick alongside other members Richard Murfitt, Glen O'Callaghan, Claire Bulman, Tania Adams, "Dr" Tony Quinn, Manj Weerasekera, Jane Abbott, Tanya Iskona and Sarah Gilhooly.

On International Women's Day 2022 Fitzpatrick appeared on a Women In Oil & Gas YouTube channel's livestream alongside Susan Morrice from the offices of Belize Natural Energy. Fitzpatrick claims she was a shareholder from the beginning, despite being ejected from a Shareholder meeting in 2011 for not being a Shareholder.
Fitzpatrick accompanied Susan Morrice to the Shifting Mindsets Conference held in Zambia in July 2022. Here we see Fitzpatrick and Susan Morrice watching President of Zambia Hakainde Hichilema address the conference.